ORR Lady Bulldogs advance to quarter finals
Feb 28, 2019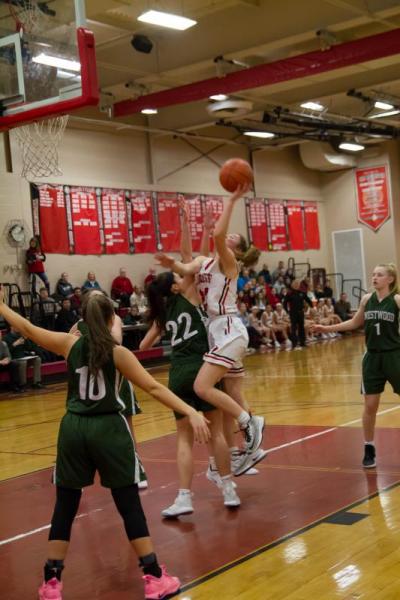 Round 1 of the playoffs was may not have been easy, But the ORR Lady Bulldogs defeated the Westwood Wolverines 50-37 to advance to the quarter finals in the MIAA basketball South Division 2 playoffs.
The Lady Bulldogs came out firing in the Feb. 28 game, leading 13-10 after the first quarter, powered by a strong defense and 6 points from Junior co-captain Mary Butler.
ORR played a different game in the second quarter though, scoring only 5 points and allowing the Wolverines to take a halftime lead of 24-15.
"I told the girls at halftime that we are significantly faster than they are and we have to use our speed to wear them out" coach Bob Hohne said.
The Lady Bulldogs listened. Coming out of the locker room with a new energy and toughness, they finished the third quarter only down by 2 points, at 32-30.
The team played an incredibly physical 4th quarter defensively, wearing down the Westwood offense and grabbing many rebounds. They held Westwood back to scoring only 5 points in the quarter.
The last-quarter scoring was led by two clutch 3-pointers by Freshman Annemarie Perry and a 6 for 7 free throw clinic by Junior Cadence Johnson. These helped the team pour on 20 points and win 50-37.
Next up for the Lady Bulldogs will will be the quarter final game in Falmouth, on Saturday at 6:30 p.m
Visit www.sippican.theweektoday.com for all your local news in the tri-town.
Visit www.boldmovesrealeastate.com for all your real estate needs.  We are your community experts in your BOLDTown.  Let us help you take the anxiety out of your real estate transaction.
https://boldmovesrealestate.com/wp-content/uploads/2018/08/orr_bulldogs.jpg
684
900
Carolyn MacGregor
https://boldmovesrealestate.com/wp-content/uploads/2018/06/bold_moves_real_estate_realtors.png
Carolyn MacGregor
2019-03-04 13:28:56
2019-03-04 13:28:56
ORR Lady Bulldogs Advance to Quarter Finals